The PTA sponsored after school movie will be The Lion King (live-action) on Monday, January 30 from 2:30-5pm. Parent permission is required for TMS students.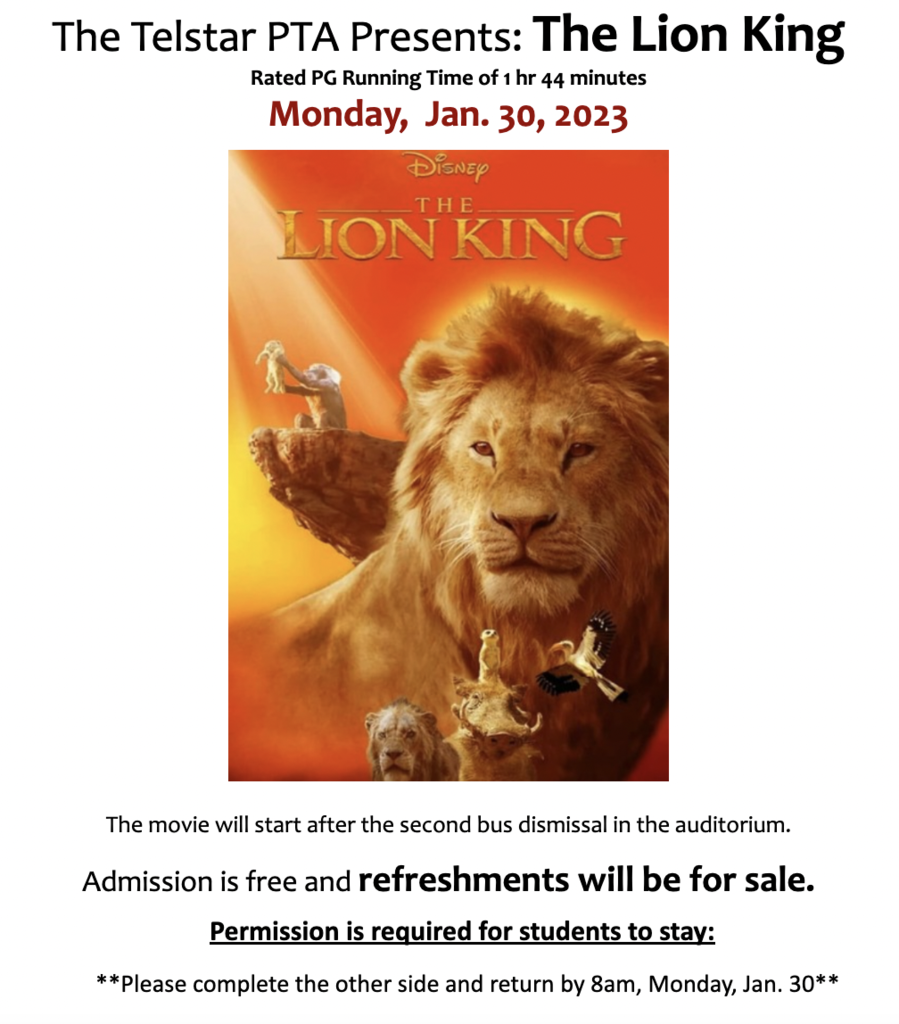 Telstar Middle School Nordic, @ Pine Hill January 21, 2023 Lillian Smith placed 2nd for the girls and overall with a time of 14:17.7 on the 3.1 K course. Tess Smith, on her new skis, followed her sister to place 4th (16:16.3). Osie Hedden, a first time Nordic ski racer, skated her way to 9th (19:48.2) and Isla DeCato, a returning 7th grader, finished 10th in 20:05.9. Reece Pierce, a returning 8th grader and a seasoned skier, placed 2nd for the boys. Reece effortlessly crossed the finish line in 15:14.0. Davon DeGruttola skated an amazing race to finish 7th with 17:39.1. Nice job team!
Lunch tomorrow (1/23/23) will be hot dogs and potato wedges, with a second choice of PBJ. Thank you!
MS Alpine: The Race has been cancelled at Black Mountain today and there will be NO practice today.
There will be no after school activities today, Thursday, January 12th. There will be no late bus. No practices and the HS Girls basketball game with Mt. Abram tonight has been postponed. Rec Skiing will still take place however. Rec skiers going today and were planning to take the late bus after are asked to come to the office to see if they can arrange a ride and if not, they will have to go home at the end of the day.
MS Basketball Makeup with Winthrop: Friday Jan. 13th Girls at Winthrop, will be dismissed at 1:30- JV 3:30-Varsity 4:45 Boys HOME JV 3:30- Varsity 4:45.
Middle School Winter Sports Pictures: Thursday Jan. 5th after school: Nordic will be outside then, Boys Basketball and Girls Basketball in the gym. Athletes will have picture information on Tuesday plus Brewster's information is on his website. MS Alpine Skiers will have their photos on January 19th with the HS teams once their jackets are in.
TMS Basketball games tonight (12/12) with Winthrop have been postponed due to illness at Winthrop. The Boys will practice first and the girls second. For those who were not planning to practice/play today, they are not required to stay and will not be penalized. The reschedule date is TBD. Thank you.
Permission Forms are due THIS FRIDAY for the TMS Bowling Night on Friday, December 9th.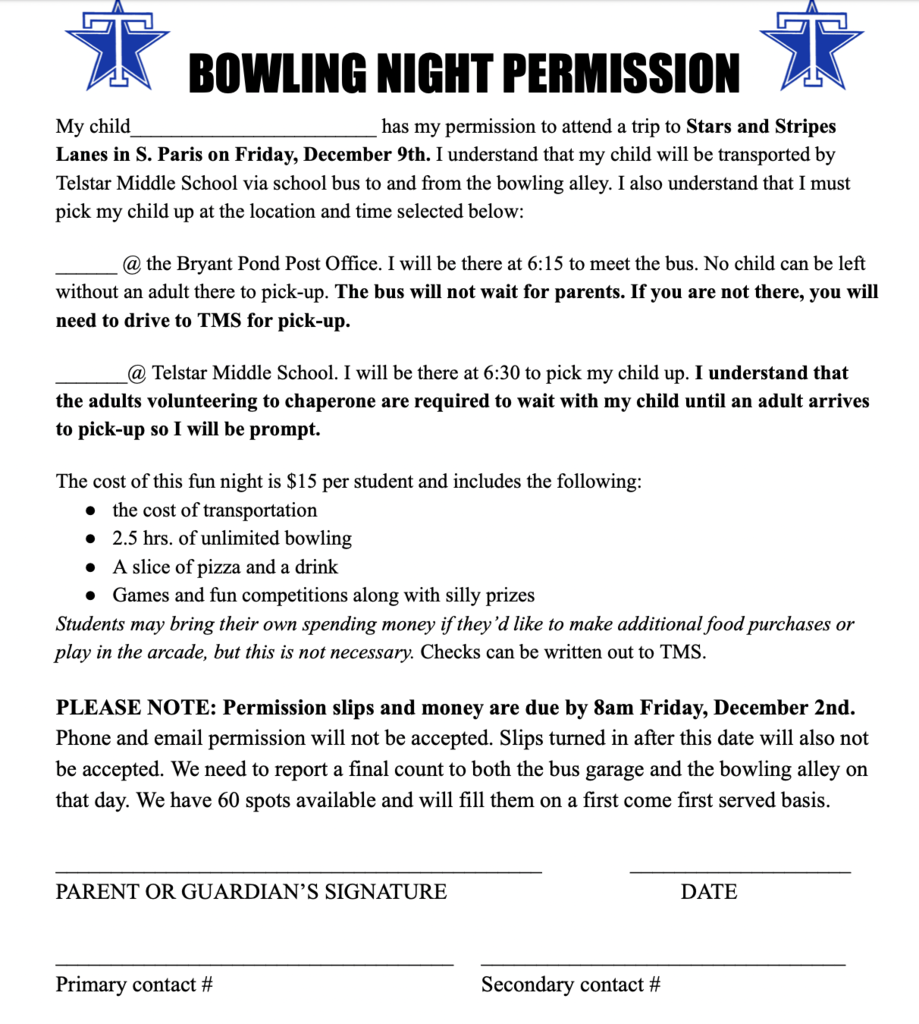 We will be swapping Tuesday and Wednesday lunch options. So tomorrow we will be having tomato soup and grilled cheese, and Wednesday will be turkey Italians. Thank you!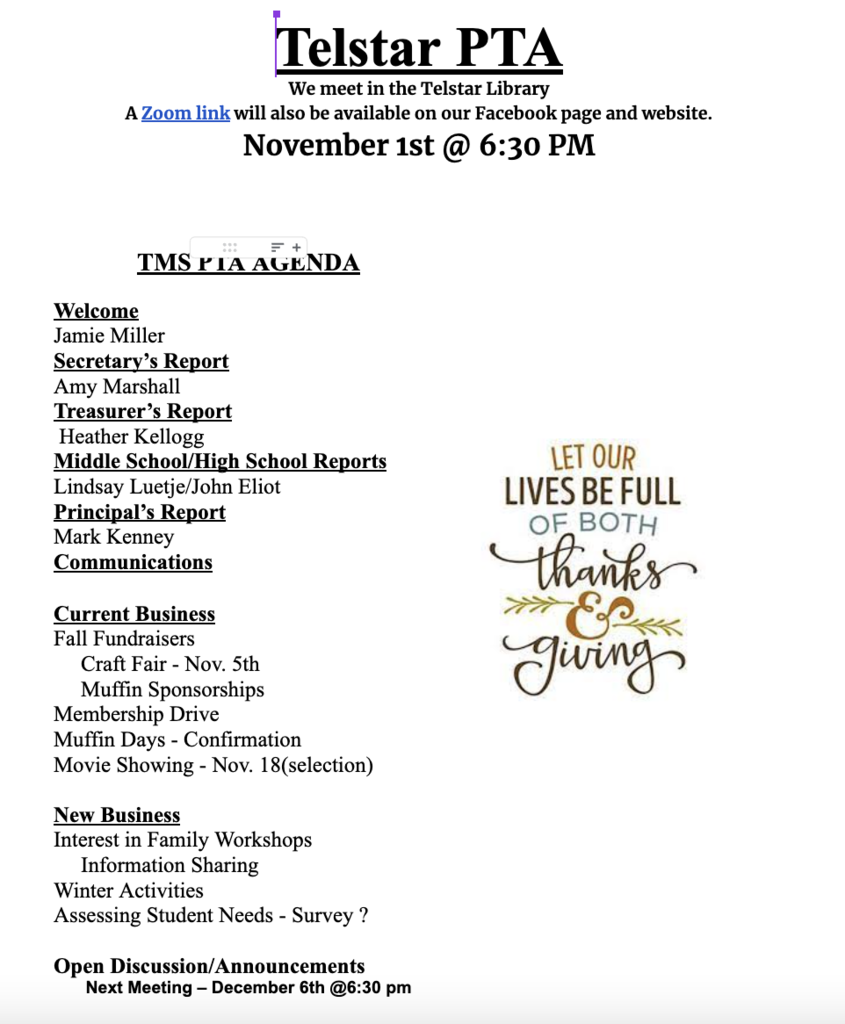 TMS Students are encouraged to dress up in Halloween costumes for Friday as well as the dance Friday night. The dance is 6:30-8:30 and the cost is $5. Costume rules apply: No weapons, no fake blood, and no masks. We also have our Stars Assembly from 11:50-12:40 in the auditorium that day. Thank you!
Telstar High School is looking for assistant coaches for the girl's and boys basketball team for this season. If you have any interest, please contact Gail Wight at 824-2136 x 1304 or email her at
wightg@sad44.org
for more information. Thank you!
Today's TMS Field Hockey game (10/14/22) at Cony has been cancelled. Unfortunately today is the last day of the regular season and won't be made up. There is no practice tonight either. Have a nice weekend!
Todays middle school soccer and field hockey games are cancelled. No soccer, field hockey or XC practice tonight. Everyone should go home at the end of the day.
Please consider joining us tonight for the Telstar PTA meeting!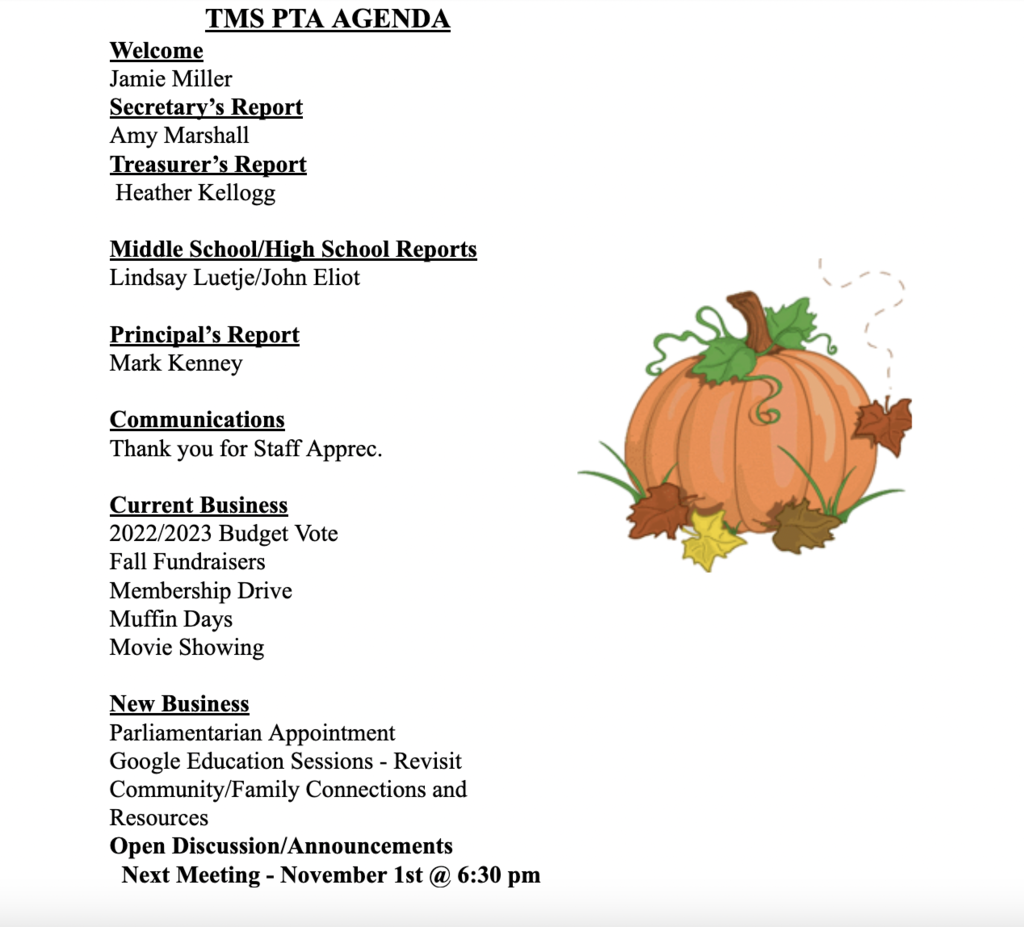 After school sports have been canceled for today. We will try to reschedule the games. There are no practices or games today for TMS students. All athletes will go home at dismissal.
TMS Field Hockey's game at Cony today, September 21st has been postponed. The team will practice after school instead. Thank you