Tomorrow is picture retake day at Telstar! The code to use for online orders is: EVT8N2GVN
Friday, Nov. 18: PTA sponsored after school movie "The Goonies"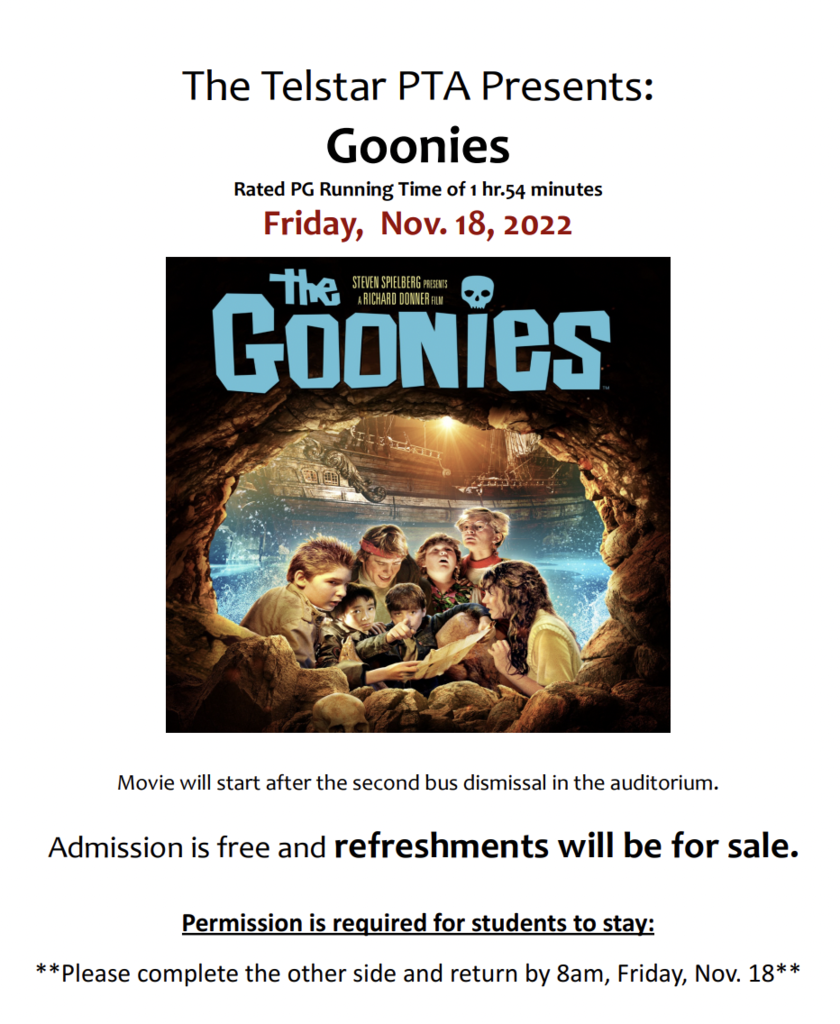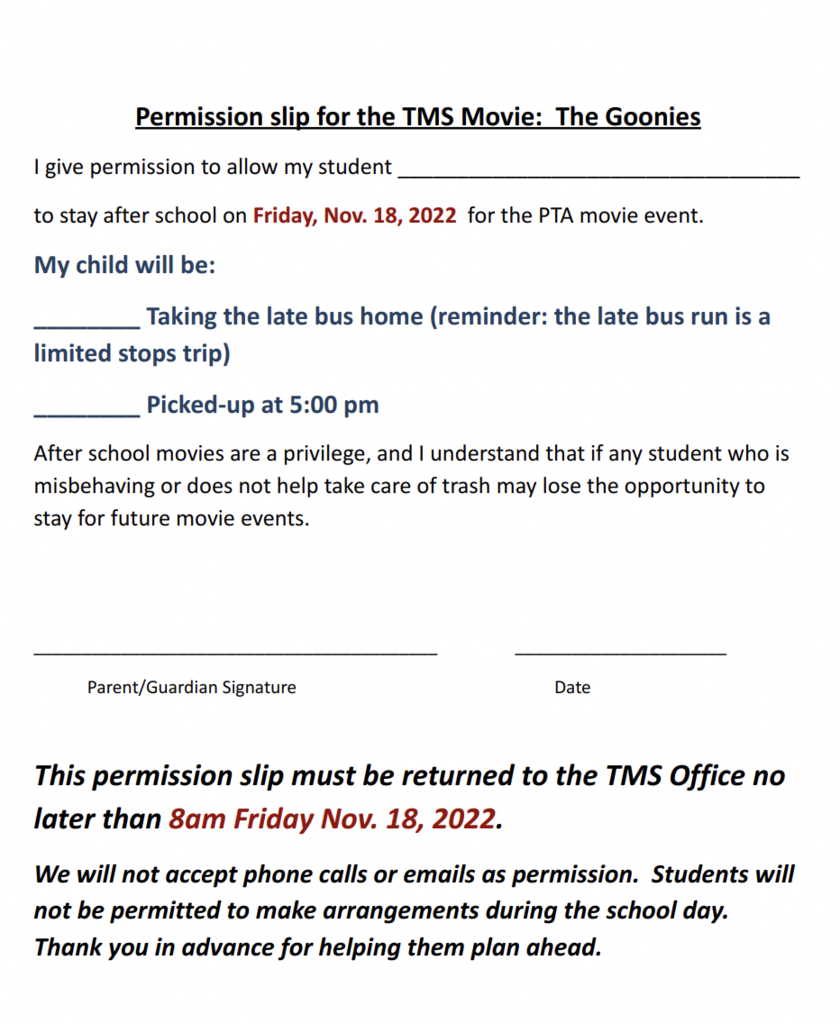 We will be swapping Tuesday and Wednesday lunch options. So tomorrow we will be having tomato soup and grilled cheese, and Wednesday will be turkey Italians. Thank you!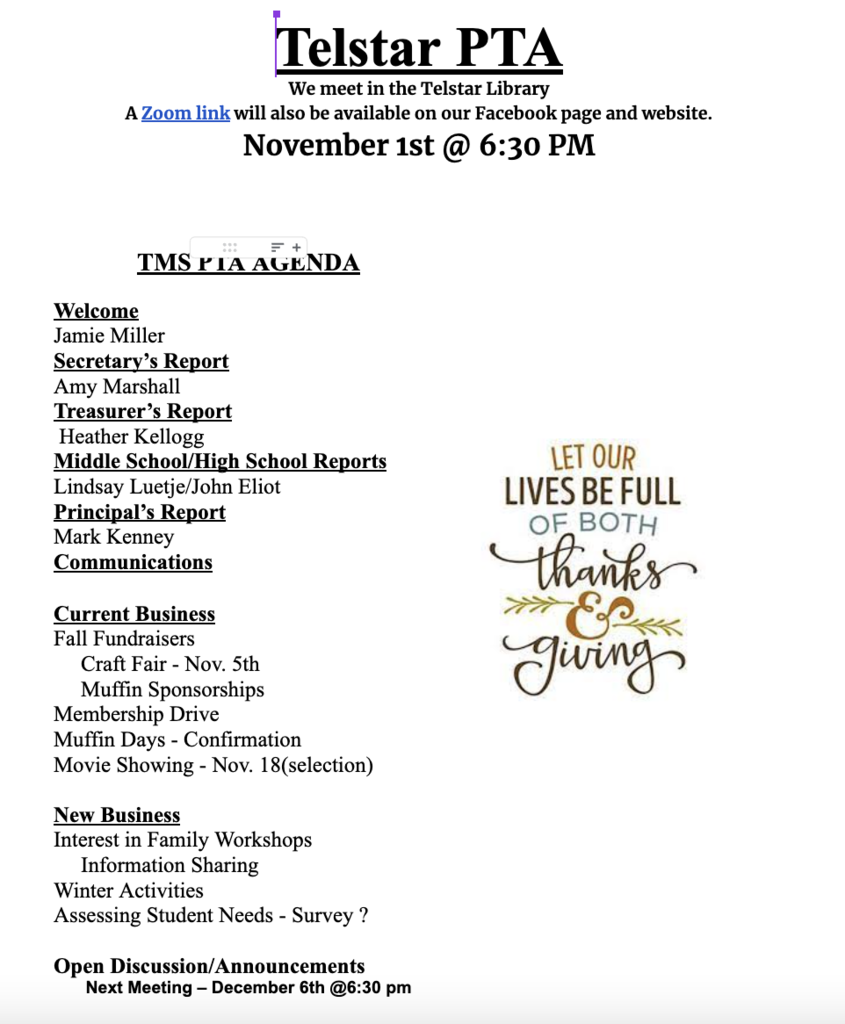 TMS Students are encouraged to dress up in Halloween costumes for Friday as well as the dance Friday night. The dance is 6:30-8:30 and the cost is $5. Costume rules apply: No weapons, no fake blood, and no masks. We also have our Stars Assembly from 11:50-12:40 in the auditorium that day. Thank you!
Telstar High School is looking for assistant coaches for the girl's and boys basketball team for this season. If you have any interest, please contact Gail Wight at 824-2136 x 1304 or email her at
wightg@sad44.org
for more information. Thank you!
Today's TMS Field Hockey game (10/14/22) at Cony has been cancelled. Unfortunately today is the last day of the regular season and won't be made up. There is no practice tonight either. Have a nice weekend!
Todays middle school soccer and field hockey games are cancelled. No soccer, field hockey or XC practice tonight. Everyone should go home at the end of the day.
Please consider joining us tonight for the Telstar PTA meeting!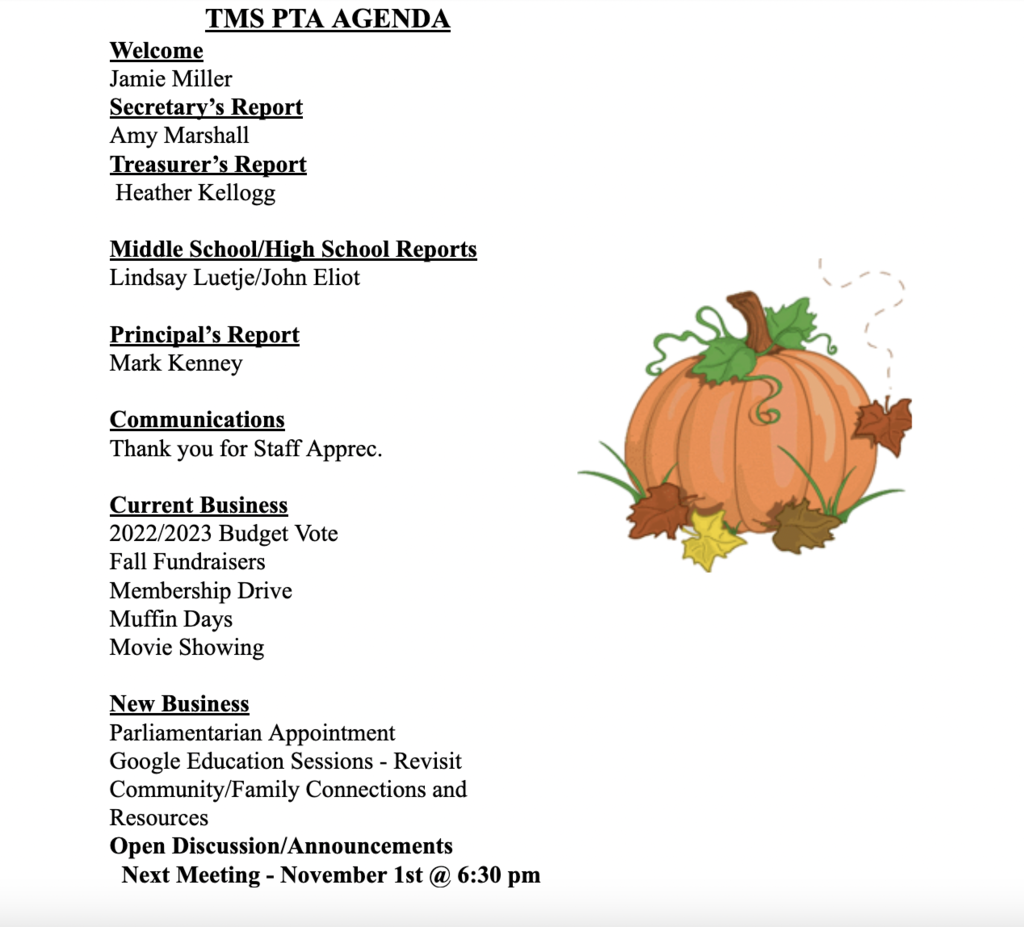 After school sports have been canceled for today. We will try to reschedule the games. There are no practices or games today for TMS students. All athletes will go home at dismissal.
TMS Field Hockey's game at Cony today, September 21st has been postponed. The team will practice after school instead. Thank you
Hello Telstar Middle School!! Our first activity night is September 23-- THIS Friday. It will be hosted by the 8th grade team. We will be having an outdoor movie night and we will be watching "Hocus Pocus". It starts at 6:30 and ends at 8:30. It is a free entry but bring money for snacks and Mr.Hedden's famous burgers. Make sure to bring warm comfy clothes and chairs to watch it in the back parking lot. We hope to see you there!
The TMS XC race at Richmond today has been postponed until tomorrow, Wednesday, September 21. Today the team will practice after school.
TMS Soccer games at Buckfield today, Tuesday, September 20th has been postponed to Friday, September 23 due to a lack of officials. The teams (boys and girls) will practice today instead.
The Telstar PTA has reopened the clothing store site for those who might have missed it before school started. It is open until September 25th. All orders will be delivered to Telstar for pickup once they are done, usually 2-4 weeks after the order window closes.
https://geeandbeesports.itemorder.com
Code: TPFBX Thank you for your support and enjoy your gear!!
Reminder that Telstar's picture day is TUESDAY, SEPT. 6th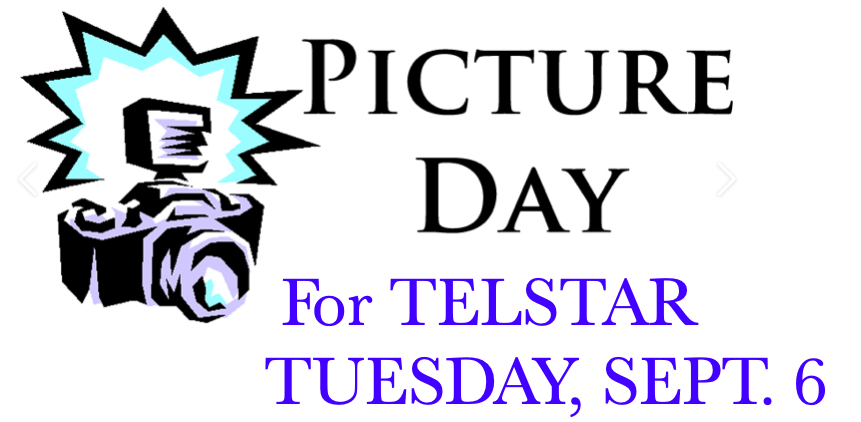 Please consider joining us for the first PTA meeting of the year at TMS/THS tomorrow night!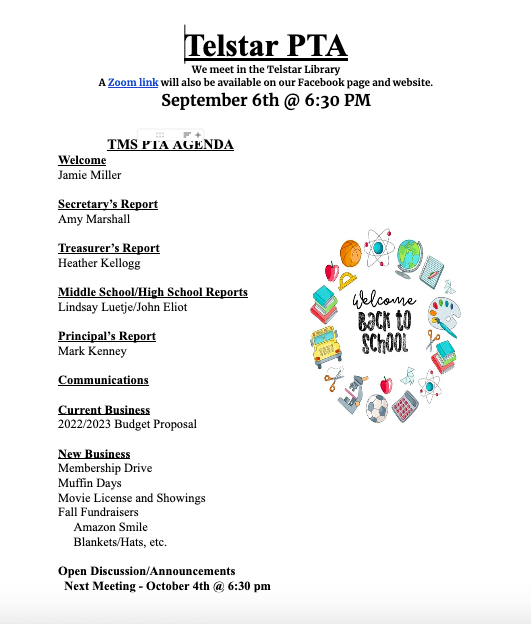 Here is the September menu from Chef Kimball for Telstar.