The final After School Movie of the year is tomorrow! We'd love to see lots of kids join us for Willy Wonka and the Chocolate Factory and Ice Cream Sundaes! Handwritten permission will also be permitted.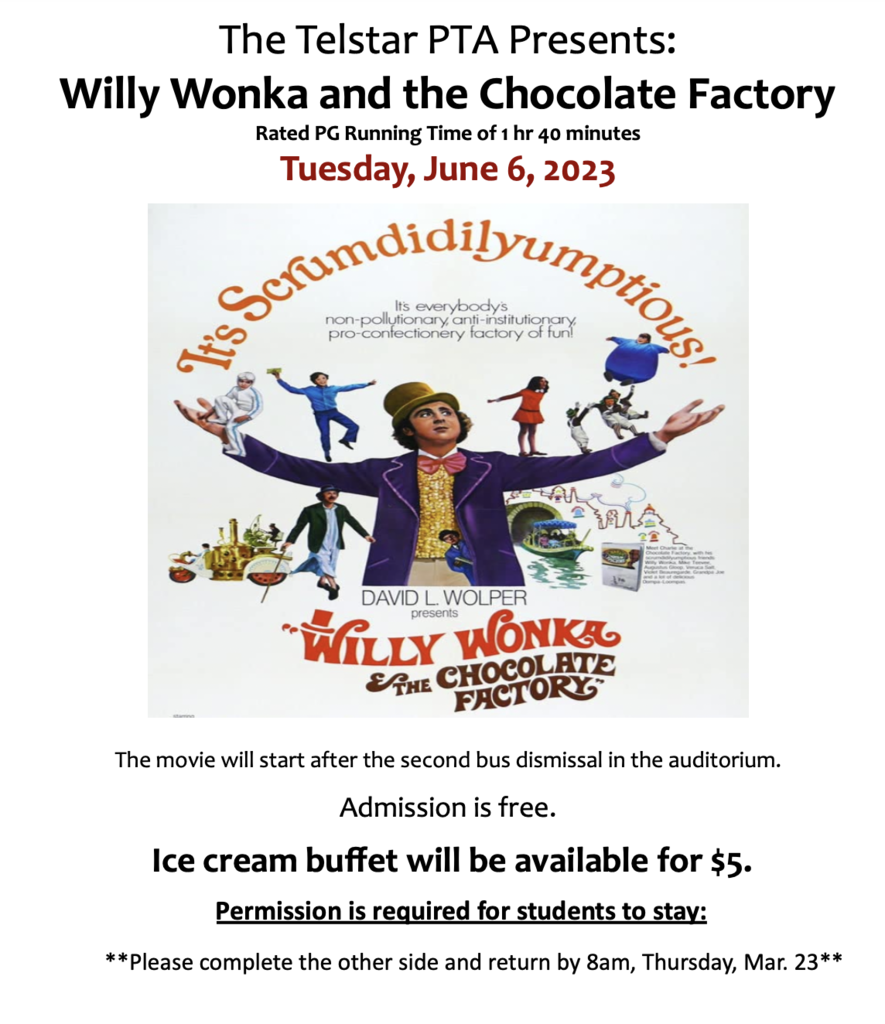 Our Telstar Freshman Academy teachers invite you to an 8th-grade Open House on June 13th, from 6:00-7:00, at the UMaine Bryant Pond 4-H Campus. We will meet at 14 Lakeside Dr., Bryant Pond, in the classroom building (the barn) to share what your children will experience next year. We will also provide a tour of the learning spaces and an opportunity to ask our staff questions. Please know that your soon-to-be freshmen are welcome to attend as well!
We'd like to invite you (and remind you) to our Arts and Music Night tomorrow night, Tuesday, May 16. Performers should be here by 6:30pm and the Art Show will be going on before and after the concert. We're looking forward to sharing an evening of great student work with you!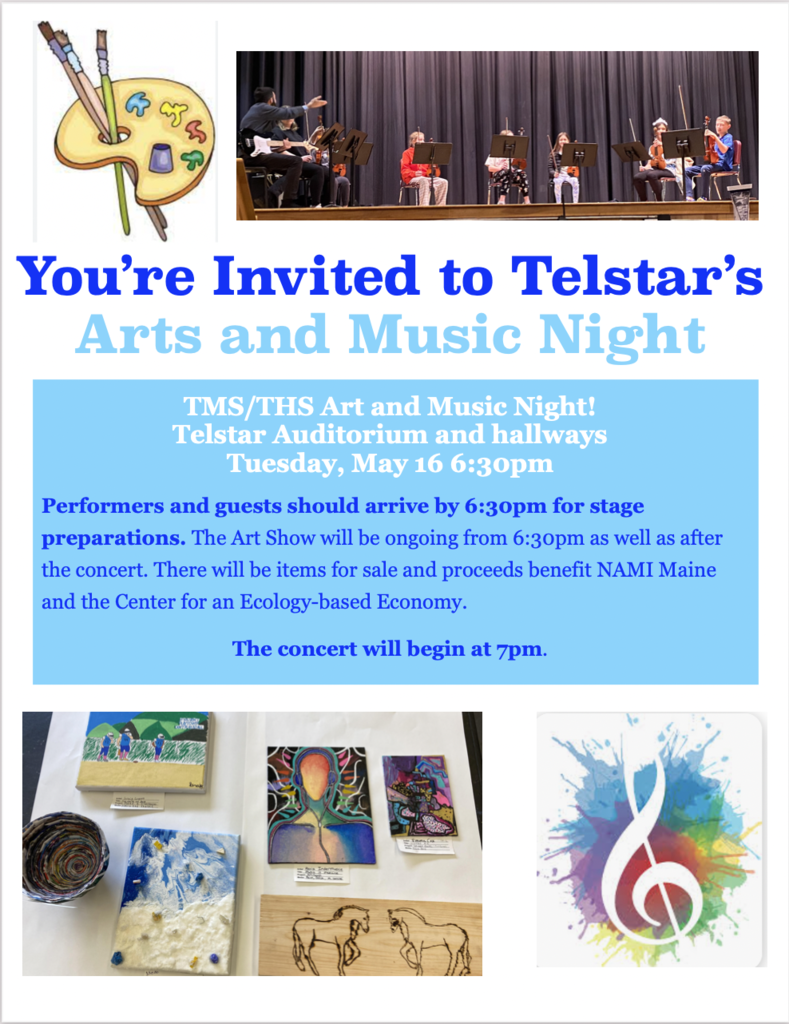 The Telstar store is now open! Orders can be placed from now through May 14th. We will not be re-opening the school store again until October so get some gear now to show your school spirit!
https://geeandbeesports.itemorder.com
Code: UZT87 Please also take a moment to complete the ARC survey, if you have not done so yet. Thanks to all who have!
https://forms.gle/bjrmPkVX2WMRRapF8
Tuesday May 2nd, No meet today and, no practice. The MS Track Meet has been rescheduled for Thursday May 4th, at Hall-Dale Dismissal will be at 1:00pm.
Make ups from today's rain outs: Telstar Middle School (baseball and softball)- Games are here Friday June 12th starting at 4:00pm. Buckfield does not have JV's
No MS Track practice today, Wed. April 12th Thank you.
TMS Yearbook orders have been extended until Wednesday, April 26th for those who have still not ordered! Order forms are in the middle school office.
For lunch tomorrow (Friday 3/24), we will be having lasagna with garlic bread, with a second choice of turkey and cheese sandwich. Thank you.

PLEASE NOTICE: 7th graders have a field trip this Wednesday to Dunham Farm and the Bethel Historical Society as part of their integrated unit Western Maine Investigations. Permission forms are due no later than Wednesday, March 15 at 8am. We cannot accept phone messages. Anyone without permission will need to remain at school so please send written notice in with your child so that they are able to participate in this opportunity. Handwritten notes with the necessary information are also acceptable.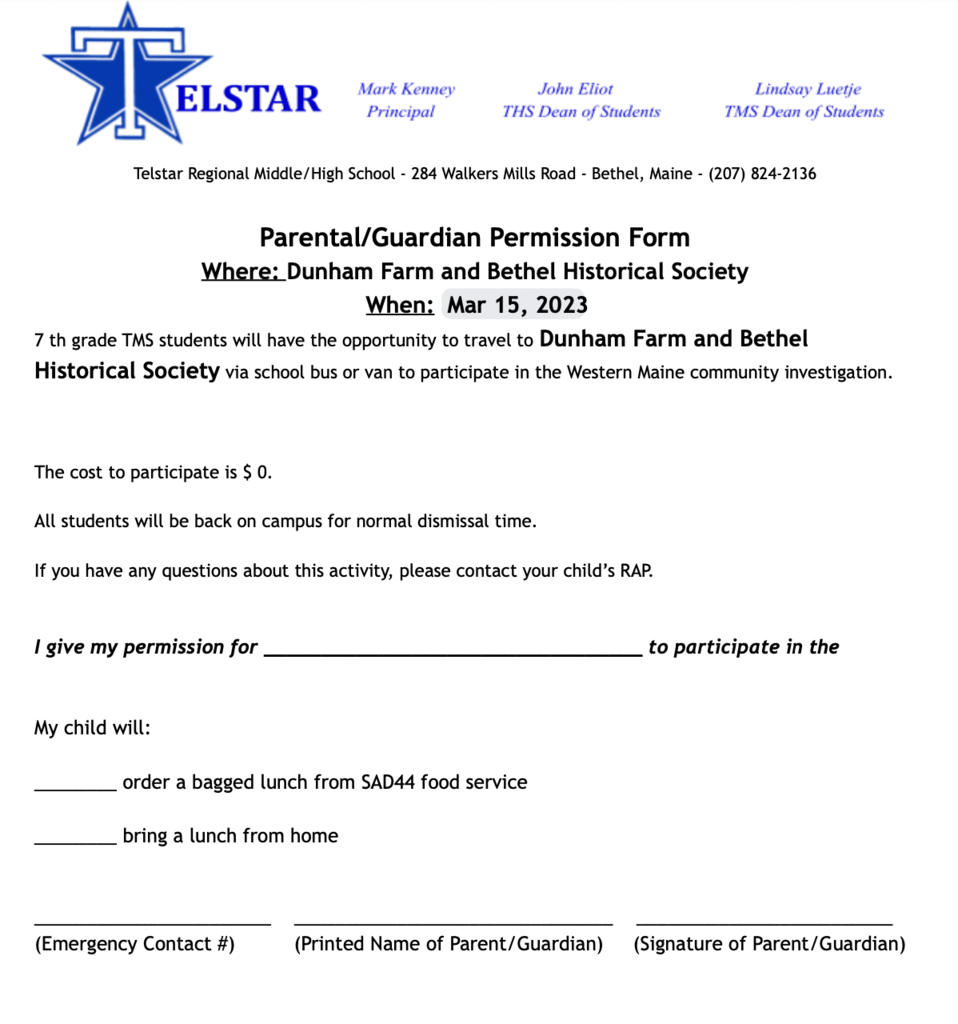 TMS Dodgeball Tournament! Our Student Leadership group will be hosting an after school dodgeball tournament THIS FRIDAY, March 10. Students (AND parents) can play or be a spectator--entry is $2 . Come join the fun!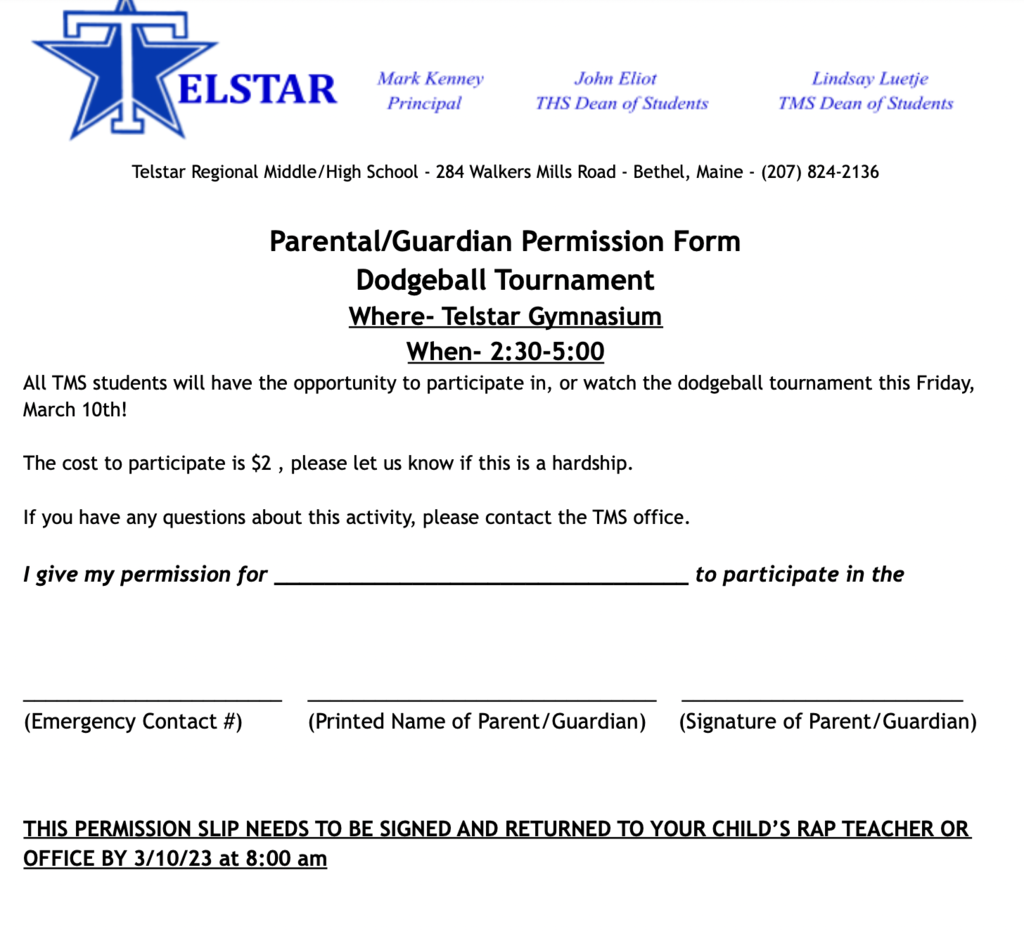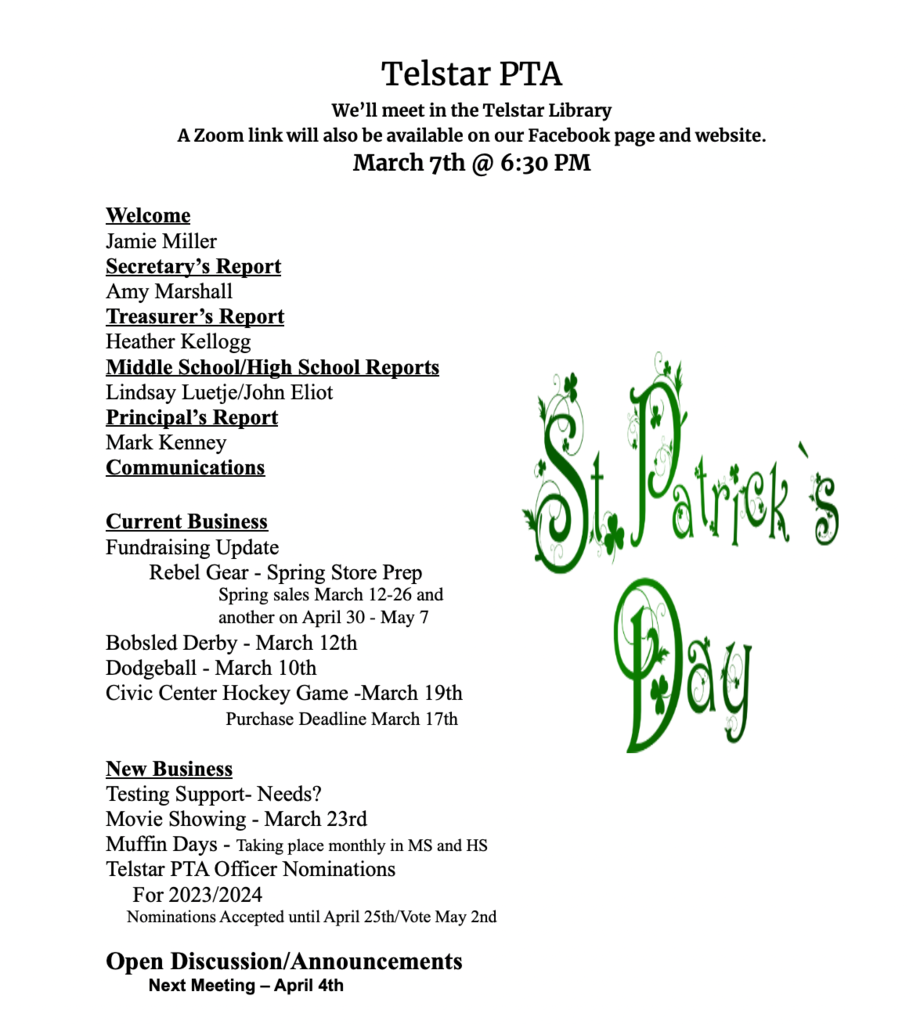 There will be no late busses or after school activities today, Thursday, March 2nd. All students should go home at the end of the day. If students have detention scheduled for today, those will move to next Tuesday. Thank you.

Want to help kids in need? Becoming a Respite Provider or Foster Parent Information Session: Wednesday, March 1, 2023, 4:30pm in the CPS Cafeteria. Can't attend? Email
smithjenni@sad44.org
for more information

Reminder that there is no school February 20-24. School Resumes Monday, February 27.
The PTA sponsored after school movie will be The Lion King (live-action) on Monday, January 30 from 2:30-5pm. Parent permission is required for TMS students.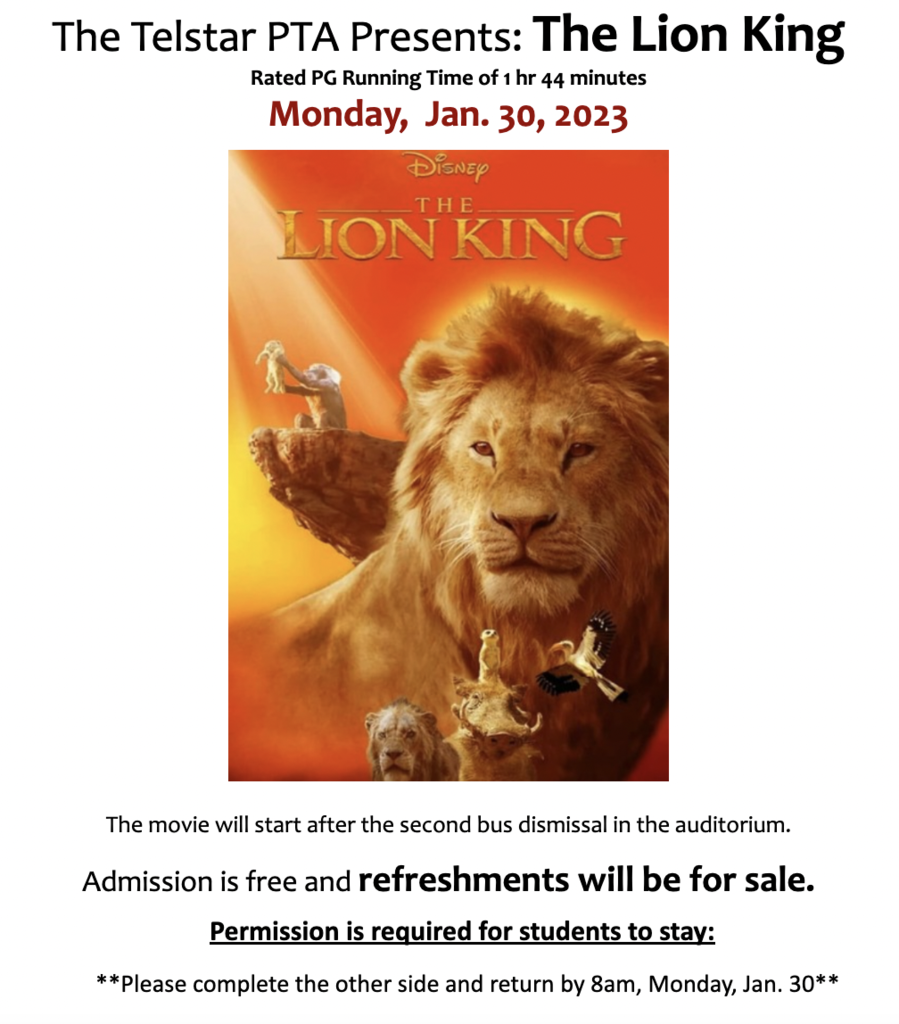 Telstar Middle School Nordic, @ Pine Hill January 21, 2023 Lillian Smith placed 2nd for the girls and overall with a time of 14:17.7 on the 3.1 K course. Tess Smith, on her new skis, followed her sister to place 4th (16:16.3). Osie Hedden, a first time Nordic ski racer, skated her way to 9th (19:48.2) and Isla DeCato, a returning 7th grader, finished 10th in 20:05.9. Reece Pierce, a returning 8th grader and a seasoned skier, placed 2nd for the boys. Reece effortlessly crossed the finish line in 15:14.0. Davon DeGruttola skated an amazing race to finish 7th with 17:39.1. Nice job team!
Lunch tomorrow (1/23/23) will be hot dogs and potato wedges, with a second choice of PBJ. Thank you!
MS Alpine: The Race has been cancelled at Black Mountain today and there will be NO practice today.