The TMS Nordic team had their classic finals at Titcomb Mountain on 2/19. Lady Rebels placed 2nd as a team at the Classic Finals. The team was led by Mallory Raymond 2nd place, Lillian Smith 8th, Rosie Barstow 22nd, Tess Smith 29th, Isla Decato 28th, and Ceci Ross 44th. Gentlemen Rebels placed 6th as a team led by Bear Otten 27th, Reece Pierce 29th, Kaiden Manjourides 30th, and Davon DeGruttola 47th. Congratulations to the Nordic team! The 21-22 season was a great success!

The TMS Nordic team has great news to share... The Lady Rebels took 2nd place at the State Skate Finals. The girls team was lead by Mallory Raymond -2nd place by 3 seconds, Lillian Smith- 4th, Rosie Barstow -24th, Natalie Pellerin- 29th, Isla Decato-33rd, and Ceci Ross- 49th. The boys team took 6th place lead by Reece Pierce--27th, Bear Otten - 31st, Kaiden Manjourides - 43rd, and Davon DeGruttola - 53rd. Classic Finals this Saturday at 1:30pm @ Titcomb Mountain. Nice job Rebels!

We are hoping to get as much of the community out to support this family filled fun day following the inspiration of Frankie DelDuca of Telstar and Team USA. Hope to see you all there as participants or cheering spectators alike!! Please help spread the word and happy building!!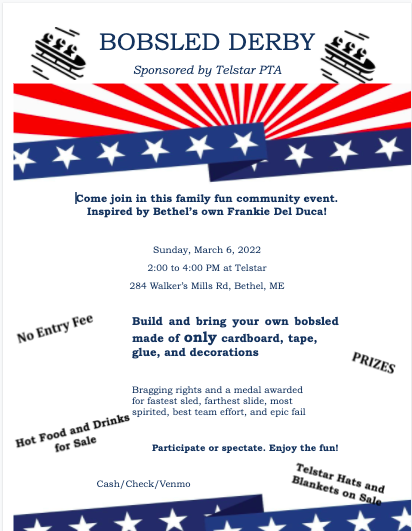 Looking for a fun way to learn to knit or spend some time knitting a new project? Come and join Mrs. Lilly after school for free to do this! Please fill out and return the permission slip or RSVP directly to her to get on the list.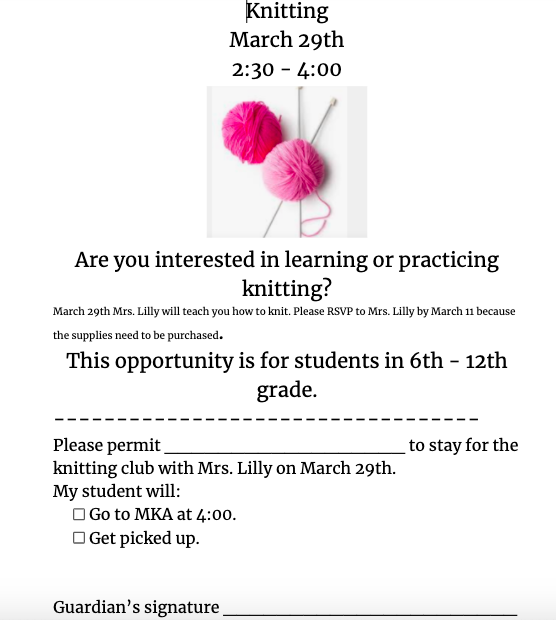 Only 5 days left to purchase your squares to support the Nordic programs!

The TMS Nordic Team met with much success on the Nordic course at Lost Valley on Saturday. The girls Nordic team led by Lillian Smith, 2nd place, Tess Smith 13th, Natalie Pellerin 19th, Rosie Barstow 21st, and Isla Decato 29th, took 3rd place over all out of 7 teams racing at Lost Valley on 2/5. The boys team came in 6th overall with Reece Pierce finishing 14th, Kaiden Manjourides 21st, Davon DeGruttola 35th and Logan Johnson 51st. Well done team!

Tonight 2/3/22 there will no after school activities at Telstar or Late Busses running due to the pending weather. Everyone will be dismissed at 2:20pm. No alpine or nordic ski (MS and HS), no basketball (HS), no TMS MKA, no Rec Ski, no NorthStar activity night rock climbing (MS), and no MS Basketball end of year gathering.

There has been some weather and transportation changes to the ski schedule for today and tomorrow. Here is the latest information: The MS Nordic Race scheduled for tomorrow(29th) at Titcomb is now today(28th) at 4:00. The TMS Alpine and Nordic will now be dismissed today at 1:15 and share a bus. Good luck teams!

The last round of winter sports team photos will be this week on: Thursday Jan. 27th 1-HS Alpine 2-MS Alpine 3-HS Nordic Starting at 2:30. Thank you.

The Telstar High School Senior Class has requested that everyone wear Blue and White to school tomorrow in honor of Senora Ojeda. Thank you for considering participating.

Check out Ella Hopps today District 2 High School Instrumental Festival. Ella is playing Clarinet in the HS Honors Band. The concert performance is at 3pm!
https://fb.me/e/1YyZBjbnW
The link is for Facebook live. Good luck Ella!


Wishing the TMS Boys Varsity well in their playoff game tonight at Oak Hill. Game time is 3:30pm and no visiting spectators allowed. Good Luck Rebels!!

Friday Jan. 14th: MS Boys Basketball games at Telstar vs Dirigo will not start until 4:30, second game start time approximately at 5:45.

Looking for the Live Stream option for tonight's TMS Girls and Boys basketball games 1/12/22 at Spruce Mountain, they said to go to their district Facebook page for directions: RSU 73- FaceBook Page


Richmond MS BB for tomorrow Varsity Girls 3:30; then Varsity Boys The link that we will livestream on is,
https://bit.ly/RMHSlive
The TMS Nordic Ski Team will meet on Monday, Dec. 6th with Coach Raymond. Please dress warm, you will be going outside. Practice will run until 4pm. If you have not sighed up to be on the Nordic Team it is not too late. Just come to practice on Monday!


The clothing website is reopening for one last chance to get those Christmas presents in!! The site will close on November 30th.
https://geeandbeesports.itemorder.com
Code: 67GU8 Thank you for your support and enjoy the Rebel Gear!!